WHERE COMPASSIONATE CARE MEETS EXCEPTIONAL VETERINARY EXPERTISE
At Animal Medical Center, we are committed to delivering personalized attention and comprehensive veterinary services.
Request an Appointment
We will do our best to accommodate your busy schedule. Request an appointment today by calling us.
Contact Us Today
Animal Medical Center is conveniently located in Frankfort, KY. Please feel free to get in touch with us.
We've been caring for pets and other animals for more than 25 years…
and we treat every animal as if it were our own.
About Animal Medical Center
We Care For Your Pet's Health
Welcome to Animal Medical Center, a trusted name in veterinary care for over 25 years! We are proud to have served the community and provided top-notch medical services for pets and other animals. Our long-standing commitment to exceptional care and compassion has made us a go-to destination for pet owners seeking the very best for their beloved companions.
At Animal Medical Center, we understand the unique bond between animals and their owners. We strive to foster a welcoming and supportive environment where you and your pet feel comfortable and cared for. We take the time to listen to your concerns, answer your questions, and collaborate with you to create personalized treatment plans that align with your pet's specific needs.
Our Veterinary Services
At Animal Medical Center, we understand that choosing a vet for your best friend is a big decision. That is why we offer comprehensive, compassionate veterinary services your furry companion deserves.
Pet Dental Care
Dental hygiene is an important part of your pet's health because dental disease can be associated with other serious health problems.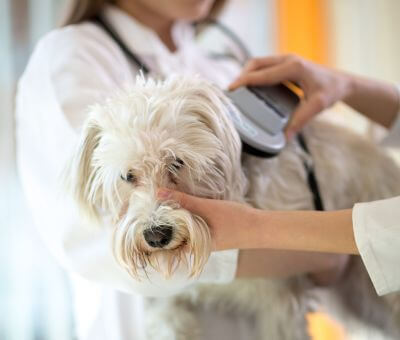 Pet Microchip
A microchip is a safe, simple form of identification that can significantly increase your pet's chance to return safely.
Nutritional Counseling
Our nutritional counseling services can help you accomplish your goals and keep your pet in good health.
Meet Dr. Drew Hestad and His Team
One of the things that I love the most about being a veterinarian is the thing that I spent most of my life doing: taking care of animals and helping others take care of their animals. I took a circuitous route to becoming a veterinarian, though. After undergrad, I came to Lexington, KY, to manage a farm. I knew I could do more, though, so I completed a Master's degree in Veterinary Science (Reproductive Physiology), and then enrolled in Veterinary School.
Thank You for Your Kind Words
"We always take our cats here to get their shots updated and to be boarded when we're away. We trust them 100%. They're such sweet and good vets!"
Tasha Maupin
"Helpful and informative people working here. Very clean and organized facility. Location was easy to find. My pet felt very comfortable there considering it was a trip to the vet. Would recommend."
Robinson Express